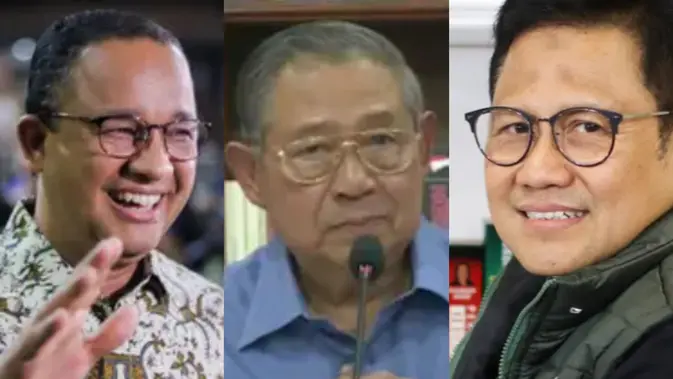 Liputan6.com, Jakarta – After months of public speculation, the presidential candidate Anies Baswedan has surprisingly picked Muhaimin Iskandar to be his VP candidate for the 2024 elections. The National Democratic party which backs Anies Baswedan is bridging the relationship between Anies and Muhaimin. 
Muhaimin Iskandar is the leader of National Awakening Party (PKB), a part of President Joko Widodo's alliance. PKB is a religious party which has close affiliation with the progressive Islamic organization Nahdlatul Ulama (NU). 
This surprising political development has brought fresh fuel for political drama in Indonesia. The usually calm former President Susilo Bambang Yudhoyono (SBY) was expressing his vexation in a long speech on YouTube, Friday (1/9/2023). 
SBY is a leading figure in the Democratic Party which also supported Anies Baswedan and expected Anies to choose Agus Harimurti Yudhoyono (AHY) as his VP. AHY is SBY's eldest son.
It was the Democratic Party which spilled the news about the partnership of Anies and Muhaimin.
A few days before that, Anies Baswedan apparently just met SBY at his residence in Cikeas without telling him that Muhaimin would be chosen, leaving SBY feeling betrayed by the "action which surpassed the limit of moral appropriateness and political ethics".
"I am a parent, and a few times Anies came here with passion and incredibly kind words. In Cikeas twice. In Malang. In Pacitan. After all that, not a single word was said to me. I am, as a parent, thinking: why has it become like this?" said SBY in a live video conference.
A Weasel
SBY said he received thousands of messages after the political betrayal. He particularly mentioned about "a weasel in sheep's clothing". 
"From thousands of messages, there are two interesting messages for me. The words are: I know politics are cunning, but this is very horrible. The victims are AHY and the Democrat. There is also a comment that the Democratic got pranked by a weasel in sheep's clothing," said SBY. 
For now SBY refused to say what his party is going to do next. He said that as a former military he was taught to make a calm decision, so he will calm down first, although he repeatedly implied that Anies' side would make an unfaithful leader.
He also expressed his gratitude because he didn't have to support him.
"If we take the moral of the story, we are freed from the sin that we might bear if we were still with them," said SBY.
Muhaimin Iskandar currently serves as the Deputy Speaker of the People's Representative Council since 2019. Previously, he was a minister for manpower in SBY's cabinet.